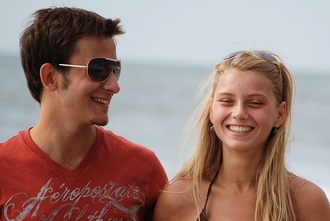 "Quality is never an accident; it is always the result of high intention, sincere effort, intelligent direction and skillful execution; it represents the wise choice of many alternatives."
–William Foster
We enjoy making you feel better and look better with the healthy and beautiful smile!
But we also know that it won't happen overnight. Enhancing your smile is the result of careful planning and design based on your esthetic, functional, and comfort needs.
We offer a variety of cosmetic dental procedures such as porcelain veneers, bonding, ceramic crowns and onlays, enameloplasty, tooth reshaping, and tooth whitening. Regardless of a cosmetic treatment, we start with a meticulous smile design. We use digital photography and molds of your teeth to see and test what can be done to improve your smile. You get to see how cosmetic dentistry can enhance your teeth before the treatment starts.
Comprehensive cosmetic dentistry involves a meticulous planning and smile design before teeth are restored with bonding, porcelain veneers or crowns. We also understand that balanced, even bite and proper function are important for longevity of your new smile.
Comprehensive cosmetic dental care can enhance your smile as well as improve function and re-establish tooth surface lost from decay or years of grinding and clenching.
We reveal your beautiful smiles by uniting form and function, while giving you comfort, self confidence, and happiness!
Enjoy your new smile! Enjoy your new quality of life!