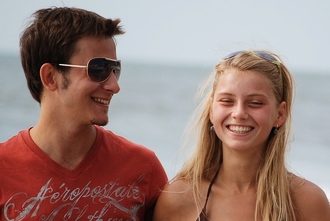 By Olga Baczara, DMD
Published in "The Maryland Women's Journal", October 2008
Have you ever woken up with sore jaw muscles? Did you have your front teeth fixed a few times and the filling would not stay on?  Does your new porcelain cap need to be replaced sooner than you thought? Do you clench your teeth during the day? Have you been told that you have gum recession or that you are "brushing too hard"? Do your front teeth look worn or chipped?
Chances are you are unintentionally grinding your teeth and developing signs of a bite problem known as occlusal disease.
Bruxism, or tooth grinding, is more common than you might think, occurring in 80% of adults. Bruxism can happen day or night and most people are not even aware that they have it. Night bruxism can only be heard 20% of the time. Episodes of grinding coincide with different stages of sleep and could vary in frequency and intensity. Research has shown that forces applied to teeth by clenching can be three times stronger than during regular chewing. Many people do not realize the damage happening to their teeth and jaw joints (TMJ) until it becomes significant and painful. An unexpected broken tooth could be your warning sign.
Other symptoms such as worn and chipped teeth, cracks, gum recession, TMJ pain, muscle tightness, jaw 'pops', frequent headaches, and ringing in the ears could also be signs of the occlusal disease.
Fortunately, today's dentistry offers so much more than just "drilling and filling." We have the ability to diagnose, prevent and treat those problems before they cause damage and pain.
A thorough diagnosis often reveals a misalignment between your teeth and jaw joints. In other words, the top and bottom rows of teeth do not fit together properly. This causes teeth to slide around and bang into each other during tooth grinding, which results in protective muscle contraction and pain. It's important to understand that teeth, gums, TMJ, and muscles are all part of one sophisticated system. Distress in one element will lead to problems in others.
When evaluating your dental health, we try to understand and "investigate" how the teeth evolved to their present condition. This helps us to prevent dental work failure, since our goal is to recreate beauty and health that will last a lifetime.
Today the results of cosmetic dentistry could be spectacular! Proper joint, teeth and functional bite assessment are keys to your dental work longevity. Because many of the new materials used for cosmetic dental work are susceptible to breaking, we need to pay attention to the issue of bruxism and occlusal disease. Otherwise, you will end up paying more to replace dental work that still doesn't address the root of the problem.
If your bite is corrected and your smile is restored with the proper course of treatment, the results are more predictable and longer-lasting. Harmony between jaw joints and your teeth will lead to proper function, comfort and a beautiful, confident smile.
A graduate of Boston University's School of Dental Medicine, Dr. Baczara has studied comprehensive cosmetic and esthetic restorative dentistry with the Pankey Institute of Advanced Dentistry, Dawson Center for Advancement of Dentistry, and Seattle Institute of Advanced Dentistry.
Dr. Baczara opened her Crofton practice in 2003 with the goal of providing high quality cosmetic and restorative dental care in personalized, relationship based atmosphere. She believes that quality and meticulous work is important in dentistry, but it does not end there. Making her guests feel comfortable and relaxed, educating and offering choices about their health, answering questions and spending time building a relationship are very important part of her service. Her patients become her friends.
In order to serve her patients better, Dr. Baczara opened the beautiful new office in the Village at Waugh Chapel in Gambrills, MD. The new state-of-the-art Center for Fine Dentistry is located on the first floor of the Anne Arundel Medical Center building in the Village complex.